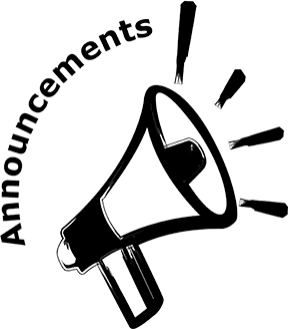 November 29 – December 4 Announcements
Susan Maass
Sunday, November 28, 2021
November 29 – December 4 Announcements
Weekly items:
Check www.godiscoverers.com for updates on activities and live schedules.
---
Students - our next FAFSA event is December 7th. Please use the link found in your counseling google classroom if you would like to sign-up for a time slot to come in to get help from EducationQuest experts. Parents can and are encouraged to attend with you as well.
---
Students: Please check your email multiple times a day as this is the way you will receive messages from the high school office along with school information.
---
Needing Discoverer merchandise? The CHS Athletics and Activities Department offers Discoverer fans a Sideline Store through BSN Sports. This merchandise website is available any time throughout the year. Please click here to be taken to the link.
---
Attention, seniors. Please remember that your items from Jostens must be ordered by December 22 in order to avoid the price increase which begins on December 23. Between now and December 22, the cost of the cap, gown, tassel, and stole set is $48 with tax. If you need any help with your order or want to pay with cash, please see Mrs. Wallin in the IMC for assistance.

---
The weight room will be open after school on Monday, Tuesday, and Thursday for open lifting from 3:45 to 4:45 pm during the months of December, January, February, and March.

---
Lunch Menu for November 29 - December 3:
· Monday: Original Beef Goulash with Garlic Breadstick
· Tuesday: Ham, Egg & Cheese Biscuit Sandwich
· Wednesday: Italian Dunkers with Marinara Dipping Sauce
· Thursday: Classic Beefy Chili with Crackers
· Friday: Home-style Scalloped Potatoes & Ham with Dinner Roll
Monday, November 29
School will resume on Monday, November 29 with a regular day of classes after Thanksgiving break.
Wednesday, December 1
There will be a C-Club meeting right after school on Wednesday, Dec. 1st in the Auxiliary gym. We will be discussing themes for activities and half time activities for basketball games.
Thursday, December 2
Come out and support your wrestling and swim team tonight by wearing the theme of "White Out" for both events.
Friday, December 3
SENIORS: Today is the day! Your senior pictures are due! Check your email for information from Mrs. Kwapnioski and talk to or email her if you have any questions. Click the link here for additional information. 21-22 Senior Photo Information
Students, Are you interested in the healthcare field? Would you be interested in taking classes at CHS covering the healthcare field? If you are in grades 10-11, please attend an informational session in the Concert Hall during homeroom on Friday, December 3 about taking Health Science courses.
Saturday, December 4
The theme for Saturday's, December 4th, basketball game is Maroon. The Boys will take on Lincoln High with the varsity game beginning at 2:00pm. See you there.