EDIT MAIN
DIBELS (Dynamic Indicators of Basic Early Literacy Skills)
DIBELS is an assessment that measures how students are performing on the following important reading skills:
Phonemic awareness
Phonics
Fluency
Reading Comprehension
Students in grades K-6 are tested three times a year: fall, winter, and spring. Students are monitored and tested for progress in learning to read several times a year.
DIBELS Results
Results are used for:

DIBELS scores help teachers prepare their day-to-day reading lessons.
Scores provide teachers and parents information about whether or not a student is on track for grade-level reading success.
Teachers can quickly identify students who do not meet DIBELS measure goals and provide intervention.

Results are shared with parents:

Fall and winter results are shared with parents at parent-teacher conferences.
Spring results are mailed home with the end-of-year report card.
---
DIBELS Proficiency
Proficiency is measured by a student's ability to orally read words accurately, smoothly, and with expression.
Grade level targets for a student to achieve are:
1st grade: 44 wpm (words per minute)
2nd grade: 94 wpm
3rd grade: 112 wpm
4th grade: 125 wpm
5th grade: 131 wpm
6th grade: 138 wpm
Kindergartners do not read DIBELS passages. They are tested orally over individual sounds and the ability to blend the sounds into words.
Historical DIBELS Data Results-Oral Fluency
GradeS 1- 6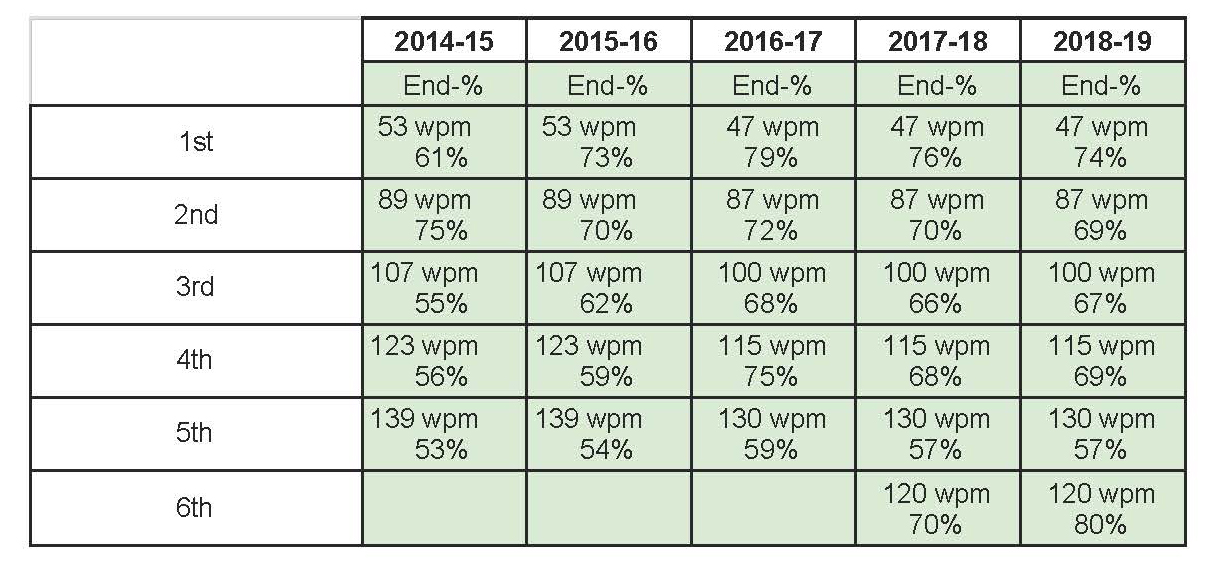 Historical DIBELS Data Results-Nonsense Word Fluency
GradE K

---