On February 20, Columbus Public Schools will not be in session due to inclement weather conditions. School buildings will not be open, breakfast and lunch will not be served, and there will be no After School Program or extracurricular practices or rehearsals. Please go to the Columbus Public Schools District Facebook page for weather-related school closing updates. Spanish-language version: El 20 de febrero, las Escuelas Públicas de Columbus no van a tener clases debido al mal clima. Las escuelas van a estar cerradas, no vamos a dar desayuno ni comida, y no tendremos el Programa Después de Clase ni ensayos o prácticas extracurriculares. Por favor vaya a la página de Facebook del Distrito de las Escuelas Públicas de Columbus para ver informes sobre el cierre de clases debido al clima.
Students will have a full day of school on Wednesday, Feb. 13th, with a 3:25 dismissal. There is no school for students on Thursday or Friday.
Parent-Teacher Conferences are scheduled for 4:30-8:00 pm on Tuesday and from 1:00-8:00 pm on Thursday. We look forward to seeing you!
Please remember that students will be dismissed at 11:45 a.m. on Friday, Feb. 8th. There will be no morning preschool classes.
Our PAC fundraiser will end on Mon, Feb. 4th. Our PAC group will use the profits from this fundraiser to purchase items for our students such as playground equipment and books for our One School One Book event. Thank you for your supporting our fundraiser and our school.
Our PAC group is hosting a fundraiser at Runza restaurant on Wednesday, January 30th fro 5:00-8:00 pm. During these hours Runza will donate 15% of all dine in and drive through sales to our school.
PAC Fundraiser
Our PAC fundraiser is underway. Our fundraiser runs from January 25th to February 4th.

Columbus Public Schools will remain open today with students being dismissed at the regular time. As in all inclement weather events, parents can choose to check out and pick up their children early. If another adult or sibling is picking up your child, you must please call the school to let them know who that person is.

2019 Jam the Gym Diamond Dance Camp is from 9 a.m.-noon January 19 at CHS. The clinic is open to K-6th students. The performance is Jan. 20 beginning at 2 p.m. Registrations are due by Jan. 4. For more information, contact Kassie Neujahr at
neujahrk@discoverers.org
.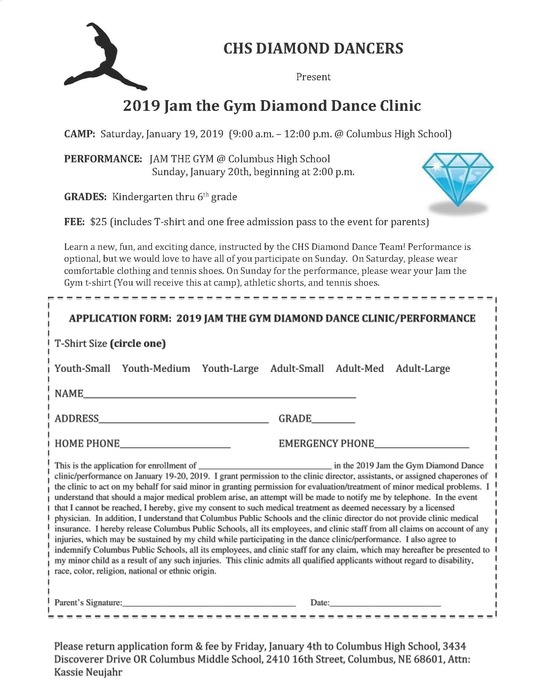 Our December PAC meeting will be on Tuesday evening, Dec. 11th, at 6:30 p.m. We hope to see you there!
Students will have only two days of school this week due to the holiday break. There is no school on Nov. 21st-23rd. Happy Thanksgiving!
Our 1st, 2nd and 3rd grade students will perform their music program on Tuesday evening, November 13. The program will be at the middle school auditorium and will begin at 7:00. Students should arrive by 6:45. We look forward to seeing you at the program!
All Centennial students can bring a costume to school and wear it during their Halloween party. Our preschool - 2nd grade students walk in the costume parade while our 3rd and 4th grade students watch the parade.
Halloween Parties on Wednesday
Centennial students will be celebrating Halloween on Wednesday. The costume parade for preschool through 2nd grade will begin at 1:15. Classroom parties will be from 1:30-2:00. Students will be dismissed at 2:15 on Wednesday.
Thank you to our PAC group for purchasing individual headphones for our students. We appreciate your support!