Box Tops is switching from clip and collect to scan your receipt. Here is a video that explains the new process. We will still be getting some clipped Box Tops this year, but the switch is already occurring. This video explains the change!
https://www.youtube.com/watch?v=Hh94b2BvFK4&feature=youtu.be

The USDA Summer Lunch Program will run from 11:30 a.m.-1 p.m. May 30-July 26 Monday through Friday at CMS, 2200 26 St. There will be no lunch served on July 4 and 5. The meal is free to all children ages 1-18. Adults accompanying a child may eat for $3.75. All meals meet USDA nutrition standards. The USDA Summer Lunch program serves meals with milk, meat, fruit, vegetables & bread. The USDA Food & Nutrition Service prohibits discrimination on race, color, national origin, age, sex or disability.
The North Park Field day scheduled for today, May 9th, has been postponed to Monday, May 13th at 1:00 pm due to the weather.

PowerSchool will be down for about an hour starting at 5 p.m. Sorry for the inconvenience.

No school for Columbus Public School students today. Required staff are to report.


On February 20, Columbus Public Schools will not be in session due to inclement weather conditions. School buildings will not be open, breakfast and lunch will not be served, and there will be no After School Program or extracurricular practices or rehearsals. Please go to the Columbus Public Schools District Facebook page for weather-related school closing updates. Spanish-language version: El 20 de febrero, las Escuelas Públicas de Columbus no van a tener clases debido al mal clima. Las escuelas van a estar cerradas, no vamos a dar desayuno ni comida, y no tendremos el Programa Después de Clase ni ensayos o prácticas extracurriculares. Por favor vaya a la página de Facebook del Distrito de las Escuelas Públicas de Columbus para ver informes sobre el cierre de clases debido al clima.

Columbus Public Schools will remain open today with students being dismissed at the regular time. As in all inclement weather events, parents can choose to check out and pick up their children early. If another adult or sibling is picking up your child, you must please call the school to let them know who that person is.
The North Park PTO will be sponsoring a Family Movie Night on Thursday, Feb. 21 from 6:30-8:00 PM in the North Park Elementary gym. All North Park families and staff are welcome. The movie is free. We hope to see you there!
The North Park PTO will be holding its January meeting on Monday, Jan. 7th at 5:30 pm in the North Park Media Center. We will be discussing our next Family Night as well as our upcoming Fundraiser. All parents and teachers are invited to attend all PTO meetings.

2019 Jam the Gym Diamond Dance Camp is from 9 a.m.-noon January 19 at CHS. The clinic is open to K-6th students. The performance is Jan. 20 beginning at 2 p.m. Registrations are due by Jan. 4. For more information, contact Kassie Neujahr at
neujahrk@discoverers.org
.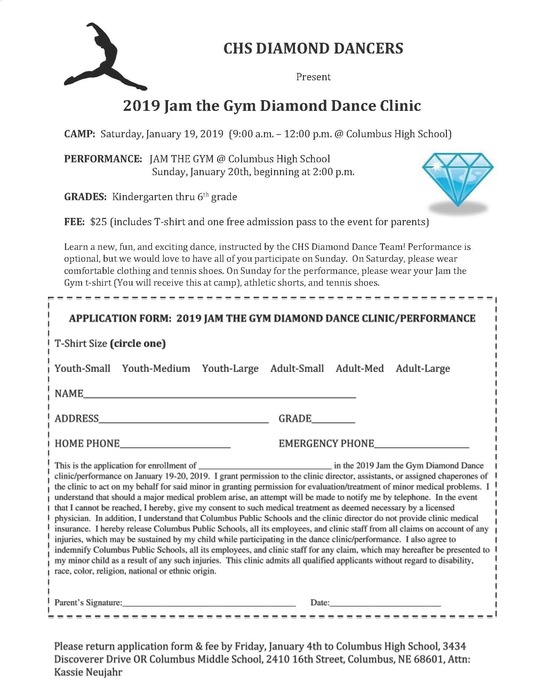 2B won the Box Top competition this month and voted what color Mr. Hausmann had to dye his hair today. Be the rainbow, Mr. Hausmann! Read about the Box Top program here,
https://www.boxtops4education.com/
. Keep sending those Box Tops, we have incentives each month. Thank you!
PTO Meeting Summary from Nov. 5th meeting. A date for the next family night was set. Thursday, Dec. 13th at 6:00-7:30 pm will be a holiday decorating night. Families can come and have some holiday fun making decorations and crafts for the holidays. Santa may even be there.