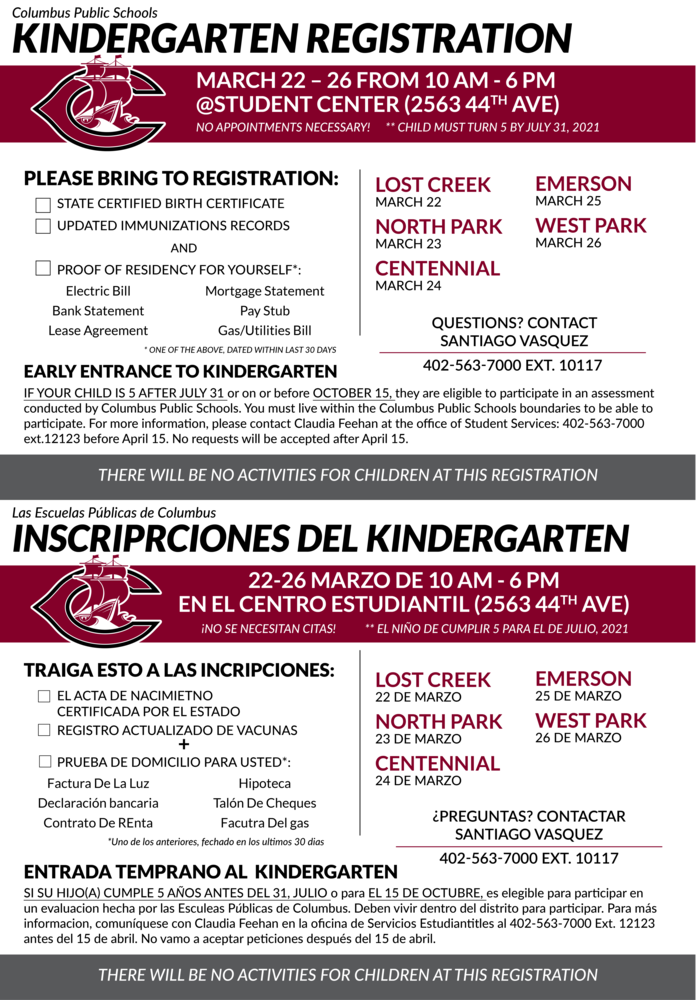 Kindergarten Registration Opens Soon!
Santiago Vasquez
Thursday, March 04, 2021
Kindergarten registration for the 2021-2022 school year will be held at the student center located at 2563 44th Ave the week of March 22nd – 26th from 10 a.m. until 6 p.m. No appointment necessary.
your child must be 5 years old by July 31, 2021 in order to enroll.
March 22 – Lost Creek
March 23 – North park
March 24 – Centennial
March 25 – Emerson
March 26 – West Park
You will need:
your child's immunization records;
state issued birth certificate AND
parents/guardians proof of residency,
which must be one of the following:
Electric bill within the last 30 days
Gas bill within the last 30 days
Paystub within the last 30 days
Mortgage or bank statement within the last 30 days
City water/sewer bill within the last 30 days
Lease agreement
Personal property tax statement
If you have any questions, please call Santiago Vasquez at 402-563-7000, Ext 10117.
The above information appeared first in Discoveries, our parent newsletter.
Read the latest edition here --> Winter 2021 Discoveries