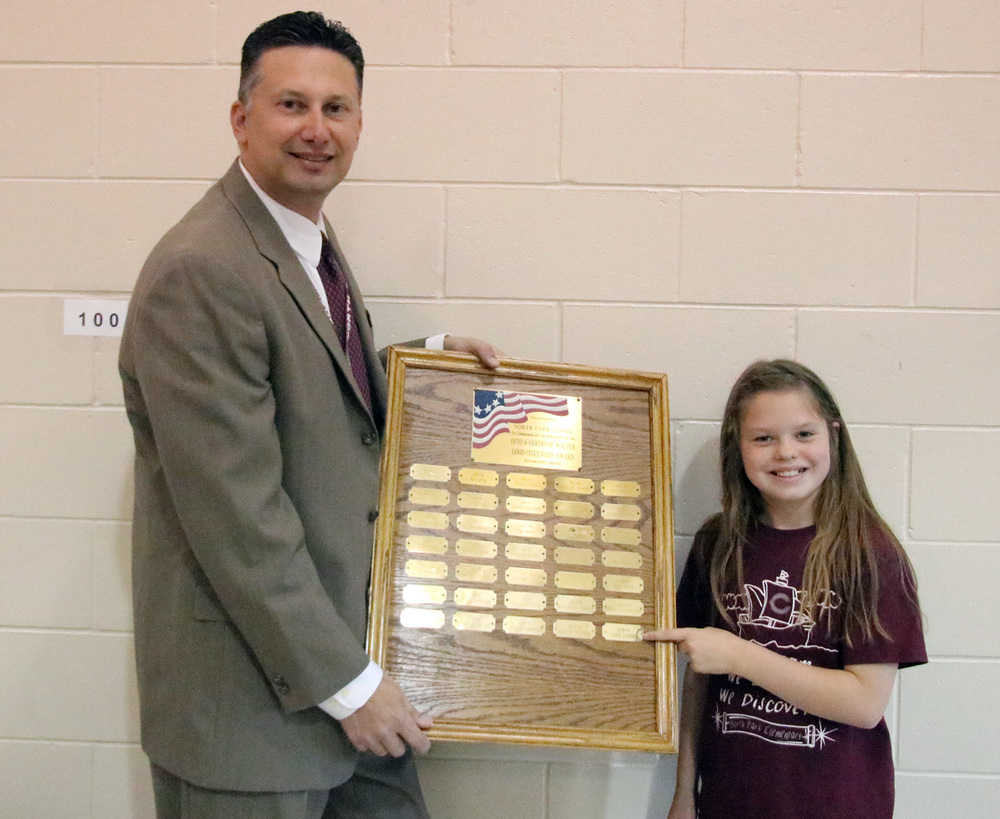 Otto and Gertrude Good Citizenship Award
Michelle Cruise
Wednesday, May 29, 2019
Congratulations to North Park fourth grader Sadie for being selected as the recipient of the 2018-19 Otto and Gertrude Walter Good Citizenship Award.
Sadie has shown great character and is always nice to everybody. She works hard and does the right thing. Sadie has always been a good role model for the other students all 5 years she has attended North Park. Sadie served our school on the Student Council and also participated in Sing Around Columbus. Sadie is always on task in the classroom. She fervently does her assignments. She will always lend a helping hand to those who need it. Sadie has a very pleasant personality. She can easily take a leadership role when needed and she can be a team player when needed. She is capable of holding a conversation with adults and children and her smile brightens any room. Sadie is kind to everyone. Sadie has a very good sense of fairness, and shows empathy toward others. Sadie works hard to do her best in school, and to be a helpful and respectful citizen. Sadie is always willing to be helpful in school and out. Any time she is waiting for her mom after school, she offers to help teachers by doing little jobs in their classrooms. She also offers to help with many of our teacher's own kids outside of school, often without even being asked, and tries hard to set a good example for them as well.
She has been a great role model showing that even kids can help their school by being a good citizen. We hope others will try to be a good citizen like Sadie has been and we know that she will continue trying hard to help others for years to come.
The award was started in 1985 by Mrs.W.F. Sinsabaugh of Irvine, California in memory of her parents who had recently died. Her parents' names were Otto and Gertrude Walter. Mr. and Mrs. Walter were famous for always trying to do whatever they could to help the people of Columbus. They were involved in many community service clubs and volunteered in many ways to help others and the town of Columbus as a whole. Mrs. Walter was also a teacher and principal. Mr. Walter worked as a successful lawyer in Columbus and was the Platte County Attorney until 1927. They lived in Columbus for 70 years before they retired and moved to Hawaii. When we think of Good Citizens, Mr. and Mrs. Walter were great examples of people who gave to the people of Columbus. Mrs. Sinsabaugh said her parents believed, "You must give before you receive."
The purpose of this award is to reward and encourage students in Columbus who are good citizens, are good leaders by always trying to do what is right, who help others in their school and in the town of Columbus, and who are good role models for the kids of Columbus.
A plaque hangs on the wall outside the North Park office with the names of all the past winners of this award.