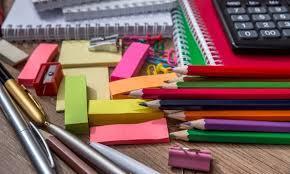 CMS Student Materials Check-In
Nicole Anderson
Tuesday, May 05, 2020
CMS Collection of Materials
CMS will NOT be collecting any 5th-8th grade students' computers and chargers. Students need to keep them in a safe place over the summer and bring them back next fall ready to use them.
8th grade students are required to return their computer bag. The bag must have the student's name on it. There is a clear pocket to place the student's name to label the bag. 8th grade students may drop off their computer bag May 11th-14th from 8:00am to 3:30pm or May 14th from 6:00pm to 7:30pm. The bags will be dropped off right outside the main office doors in the breezeway in the labeled container. Students who do not return the bag or have damaged their bag will be fined $29.95.
Mr. Klee is available to collect the school owned band instruments. He will collect these outside the auditorium doors on the south side of the exterior of the building (hallway to the band room) on May 14th, 7:30am-9:00 am and 6:00 pm-7:30 pm and May 15th, 1:00pm-2:30pm.
ALL students may return school library books to the container outside the main office doors as well Monday-Thursday 8:00am to 3:30pm.
The collections of materials will be contactless. We want our students to practice social distancing when returning items. Only one person inside the breezeway at a time and students are encouraged to wear face coverings.
CMS NO va a colectar las computadoras o cargadores de los alumnos de los grados 5-8. Los alumnos necesitan guardarlos y cuidarlos durante el verano y traerlos de regreso el próximo otoño para usarlos.
Los alumnos del grado 8 deben entregar la bolsa de la computadora. La bolsa debe tener el nombre del alumno. Hay un bolsillo transparente para ponerle el nombre del alumno en la bolsa. Los alumnos del grado 8 pueden entregar la bolsa de la computadora del 11-14 de mayo de 8:00am a 3:30pm o 14 de mayo de 6:00pm a 7:30pm. Pueden dejar las bolsas afuera de las puertas de la entrada principal en el vestíbulo dentro del contenedor indicado. Los alumnos que no entreguen la bolsa o que hayan dañado su bolsa deben pagar a $29.95.
El Sr. Klee está disponible para colectar los instrumentos escolares de la banda. Él va a recolectarlos afuera de las puertas del auditorio al lado sur del exterior del edificio (pasillo del salón de banda) el 14 de mayo, 7:30am-9:00 am y 6:00 pm-7:30 pm y 15 de mayo, 1:00pm-2:30pm.
TODOS los alumnos pueden entregar los libros de la biblioteca en el contenedor afuera de las puertas principales de lunes a jueves 8:00am a 3:30pm.
La colección de materiales va a ser sin contacto. Queremos que los alumnos practiquen el distanciamiento social cuando entreguen sus artículos. Solo una persona puede estar en el vestíbulo a la vez y recomendamos que el alumno use un cubrebocas.
CMS ne recueillera tout 5 -Ordinateurs et chargeurs pour les élèves de 8e année. Les étudiants doivent les garder dans un endroit sûr cet été et les ramener à l'automne prochain, prêts à les utiliser.
Les8e année élèves dedoivent retourner leur sac d'ordinateur. Le sac doit porter le nom de l'élève. Il y a une poche transparente pour placer le nom de l'élève pour étiqueter le sac. Les élèves de 8e année peuvent retourner leur sac d'ordinateur du 11 au 14 mai de 8h00 à 15h30 ou le 14 mai de 18h00 à 19h30. Les sacs seront retournés juste devant les portes du bureau principal dans le passage couvert dans le conteneur étiqueté. Les étudiants qui ne retournent pas le sac ou qui l'ont endommagé seront condamnés à une amende de 29,95 $.
M. Klee est disponible pour récupérer les instruments de groupe appartenant à l'école. Il les récupérera à l'extérieur des portes de l'auditorium du côté sud de l'extérieur du bâtiment (couloir menant à la salle de musique) le 14 mai, de 7 h 30 à 9 h 00 et de 18 h 00 à 19 h 30 et le 15 mai. , 13h00-14h30.
TOUS les élèves peuvent remettre les livres de la bibliothèque de l'école dans le conteneur devant les portes du bureau principal du lundi au jeudi de 8 h à 15 h 30.
Les collections de matériaux seront sans contact. Nous voulons que nos élèves pratiquent la distance sociale lorsqu'ils retournent des articles. Une seule personne à l'intérieur du passage pour piétons à la fois et les étudiants sont encouragés à porter des couvre-visages.