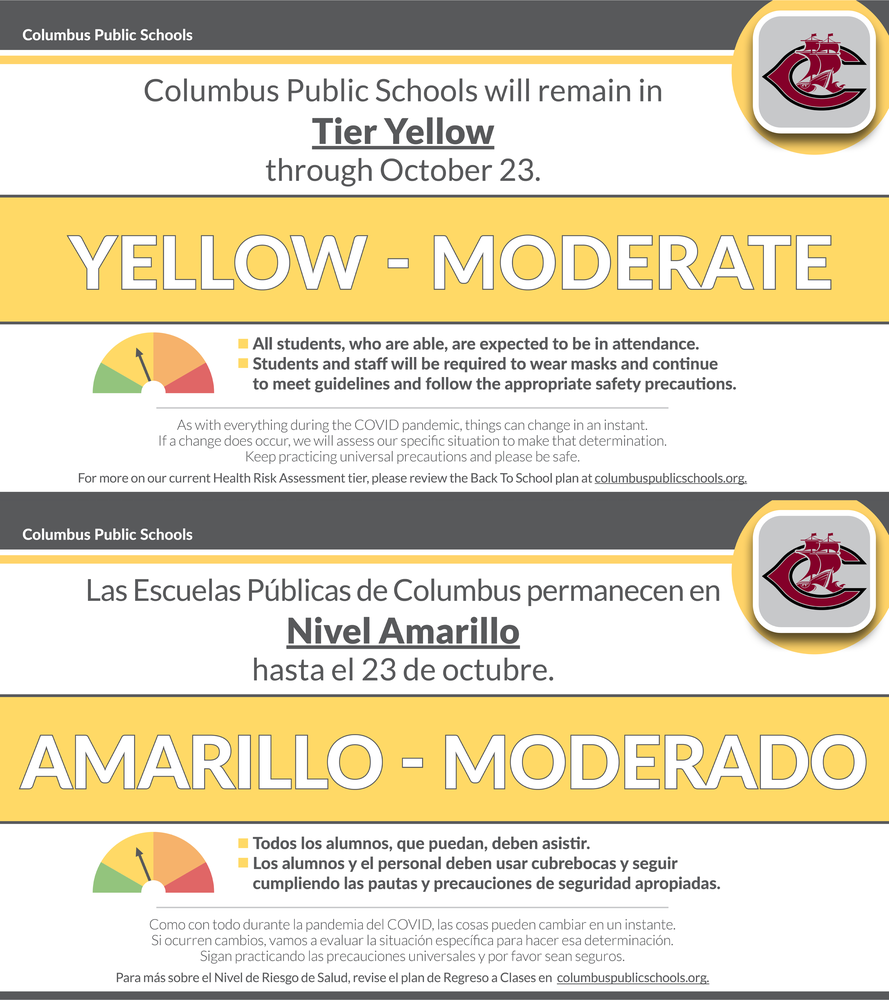 CPS To Stay In Yellow October 6-23rd
Nicole Anderson
Tuesday, October 06, 2020
October 6, 2020
Columbus Public Schools will remain in Tier 2 "YELLOW", from October 6 - October 23rd, 2020. This coincides with the end of the 1st quarter. We are well aware that the number of positive COVID results have continued to rise in Platte County. We are asking parents, students, and extended family members and friends to continue to use the universal precautions to ensure we remain in school all day every day. The risk assessment dial published by the East Central District Health Department (ECDHD) has continued to move closer to "RED". This may include no spectators at activities. So please help us, help your children.
All students will continue to be in school each day under the same protocols, procedures and guidance.
Parents and students will continue with home screenings including taking temperature.

Masks are still required of all staff and students.

Social Distancing will continue to be a priority.

No visitors other than by appointments for students are allowed.

We will continue to limit the number of spectators at activities to family members.
We continue to evaluate our staffing and student absences to determine our next steps. Our students are doing a great job, however our adults in the community not so much Be reminded that if the district does go to "ORANGE", students would be in school every other day. If we have to move to "RED", most students may not be in attendance within our facilities.
Dr. Loeffelholz