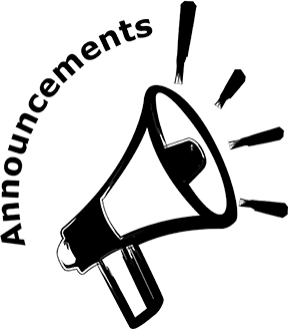 December 6 – December 10 Announcements
Susan Maass
Sunday, December 05, 2021
December 6– December 11 Announcements
Weekly items:
Check www.godiscoverers.com for updates on activities and live schedules.
---
Students: Please check your email multiple times a day as this is the way you will receive messages from the high school office along with school information.
---
Needing Discoverer merchandise? The CHS Athletics and Activities Department offers Discoverer fans a Sideline Store through BSN Sports. This merchandise website is available any time throughout the year. Please click here to be taken to the link.
---
Attention, seniors. Please remember that your items from Jostens must be ordered by December 22 in order to avoid the price increase which begins on December 23. Between now and December 22, the cost of the cap, gown, tassel, and stole set is $48 with tax. If you need any help with your order or want to pay with cash, please see Mrs. Wallin in the IMC for assistance.
---
The weight room will be open after school on Monday, Tuesday, and Thursday for open lifting from 3:45 to 4:45 pm during the months of December, January, February, and March.
---
The CHS Theatre Department will be hosting auditions for The Happiest Millionaire on Wednesday, December 15 at 4:00 PM in room D113. For information and audition materials, please either stop by or email Mr. McDonald.
---
Lunch Menu for December 6 - December 10:
Monday: Pizza Pasta Bake with Garlic Breadstick
Tuesday: Soft Shell Beefy Tacos
Wednesday: Creamy Macaroni & Cheese with Dinner Roll
Thursday: Turkey & Gravy with Dinner Roll
Friday: No School
---
Monday, December 6
Attention students who took the ASVAB at CHS on November 2. Your test scores are now available. Please stop by the counseling office before the end of the day on Monday, December 6 to pick up your scores from Mrs. Brown.
Tuesday, December 7
The US Navy will have a representative here during all lunch periods December 7th.
Students - our next FAFSA event is December 7th. Please use the link found in your counseling google classroom if you would like to sign-up for a time slot to come in to get help from EducationQuest experts. Parents can and are encouraged to attend with you as well.
Wednesday, December 8
National Honor Society and the rest of the student body would like to congratulate November's staff member of the month: Mrs. Shannon McDonald. She is a ray of sunshine in this building with her smile. Congratulate her when you see her today!
Thursday, December 9
If you are a Junior or Senior who considers yourself bilingual or multilingual, and would like an opportunity to get a "Nebraska Seal of Biliteracy," this meeting is for you! If your language skills qualify you for the "Nebraska Seal of Biliteracy", you could earn 3, 6, or 9 college credits for this skill. Anyone that wants to find out more information about this opportunity, please come to a short meeting in Mrs. Sprunk's classroom, room H211, after school on Thursday, December 9th. If you are unable to attend and are interested, please stop in any time before or after school for more information.
Congratulations to this year's Junior Class officers! President Liam Blaser, Vice-President Sarah Lasso, Secretary Eden Jackson, and Treasurer Ellie Thompson
Friday, December 10
Just a reminder to all CPS families that there will be no school for students on Friday, December 10th. This date will be a day for CPS staff to complete professional development and work in their classrooms.
Saturday, December 11
The theme for Saturday's basketball games on December 11th is Jersey. Come and support your fellow students.