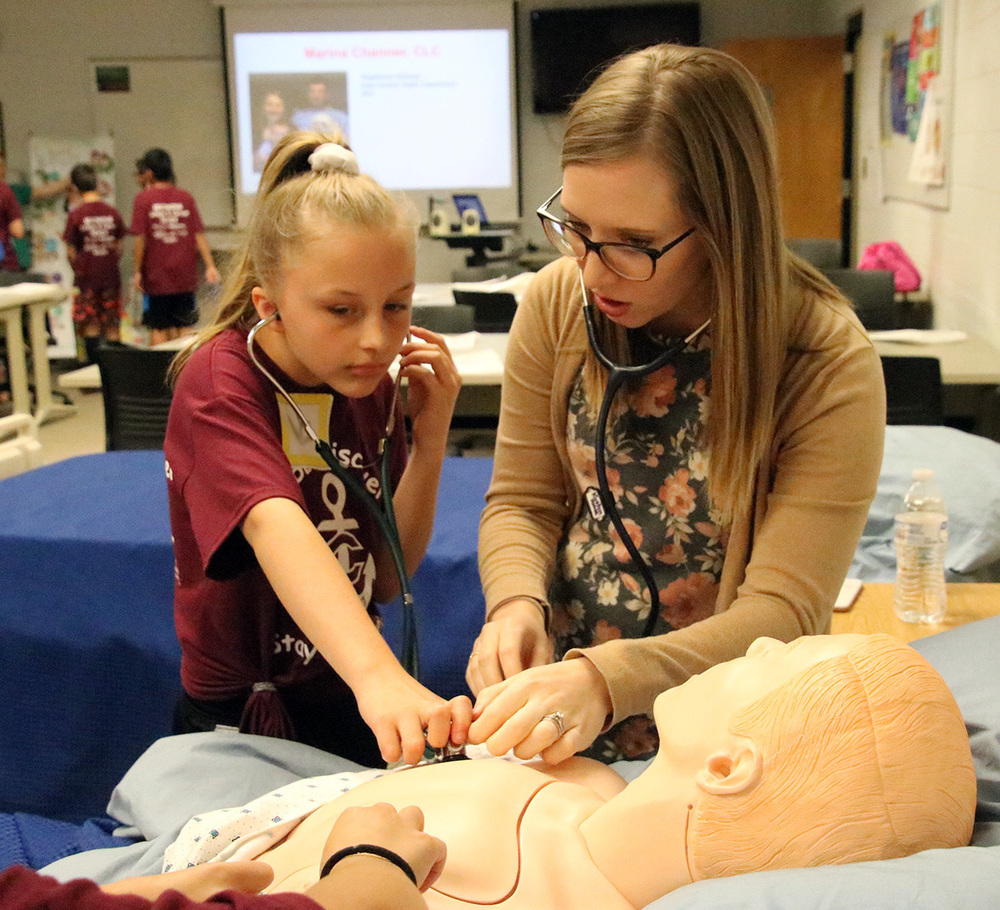 Career Day
Michelle Cruise
Friday, May 24, 2019
Columbus Public Schools fourth graders received a glimpse of some of the career opportunities available in various fields.
As the students explored six career stations, they were able to be on the Central Community College Columbus campus and also learn about the different jobs in those areas from people who work in them. The six areas are from the Department of Education Career Fields. Each cluster is a grouping of careers that focus on similar subjects or similar skills.
The goal was to help the students become college and career ready.
As the students rotated through each of the stations, they wrote down three jobs in those fields.
"(Health Science) is not just the doctors and nurses you see," Lost Creek School Counselor Robyn Wilcox told the students.
East Central Health District/WIC Registered Dietician Marina Channer said she helps people learn how to eat healthier and get the proper amounts of food their body needs. In addition to learning what was and was not healthy, the students listened to a heartbeat and pulse.
Centennial School Counselor Tricia Romshek said the Agriculture, Food and Natural Resources cluster also offers a wide variety of careers.
"There is more to this than just farming," she said.
Central Plains and Milling representative Janessa Updike said she makes feed for animals. She said her job is being the nutritionist for the animals.
Ag Consulting Group LLC Area Consulting Manager Mike Kruse said his job involves helping farmers get the best price for their corn and soybean crops. He shared that corn can be found in over 4,000 grocery items such as shampoo and gum. Kruse also told the students that one acre of soybeans can make 82,000 crayons.
In addition to being a consultant, Kruse also raises about 6,000 pigs a year. The students learned pigs grow very quickly reaching 300 pounds in six months.
HDR Procurement Specialist Tim Gentile told the students to not be afraid to follow their interests in college.
"If you are interested in something in college, take it," he said. "Sit in the front row. Never miss class and never stop trying."
Gentile earned a bachelor of science degree in construction management but also took math and engineering classes as well. These classes help him in his job, which is finding contractors who have materials that a company needs to make something.
Gentile said there is a lot of need for workers in the Skills and Technical Science cluster. He said people with an engineering degree can make $50,000 to $80,000 a year out of college. He also stressed the importance of being involved in activities at the high school level.
The Communication and Information Systems also has a variety of jobs. Dave Petersen, an artist for MARC (Mid-American Research Chemical Corp.) said even though he works for a chemical company, his skills are still needed. Someone has to create the labels for the products.
Petersen said he began his career printing the large highway and business signs. Next, he went to work for printing things on a smaller scale such brochures, letters, envelopes and other items.
"Just because it is art doesn't mean it is all about painting or drawing," he said. "It is a very broad area."
YMCA Director of Operations Ryan Beringer said people don't think of the Y as having such a wide variety of jobs such as needing someone to do the hiring, marketing and other positions.
There was also a Human Sciences and Education cluster. The school counselors felt this would be a nice link to the College Week fifth through eighth graders do.
A thank you to the following other businesses who allowed employees to come speak and be involved in the career day: Alpha Media, CCC, Heartland Health Center in Grand Island, Columbus News Team and the Columbus Police Department.