Our PAC Fundraiser is underway! Students will be bringing home a fundraiser packet to share with parents on Friday, Jan. 25th. The fundraiser runs through February 4th. Previous items that have been purchased for our school with fundraiser profits include teacher i-pads, Smartboards, individual headphones for students to use with their ipad, and playground...
We are entering the time of year when we see influenza (flu) and other respiratory viruses at school. This information is to help you determine when to keep your child at home. ★Signs of the Flu (unlike a cold, Flu symptoms usually start abruptly) ○Fever or feeling feverish/chills. Signs of a fever include chills, feeling very warm, flushed appearance or...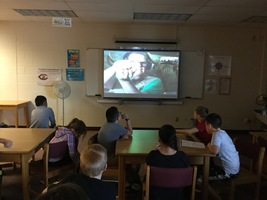 The 4th grade students recently took a virtual field trip to Morrill Hall, which is located on the UNL campus. The students participated in their own archeological dig as they dug for fossils and elephant teeth. Our students learned about the types of elephants that lived in Nebraska millions of years ago.