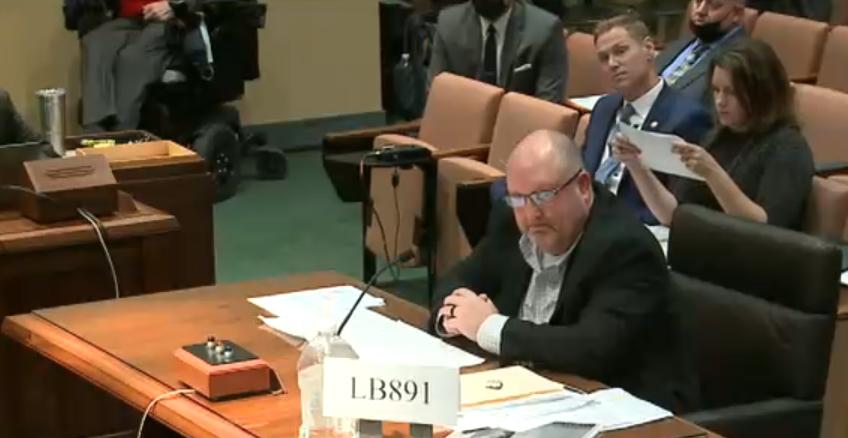 Kay, Loeffelholz return to Capitol, address LB891
Isaiah May
Wednesday, January 26, 2022
Director of Finance & Human Resources Chip Kay, and Superintendent Dr. Troy Loeffelholz returned to the State Capitol a second day, Wednesday. This time the pair testified in support of Legislative Bill 891.
LB891 is a companion bill to LB890, wich Kay and Loeffelholz supported yesterday in testimony for the Education Committee.
"As a sister bill to LB890, Senator (Brett) Lindstrom (District 18) has designed LB 891 to be an effective, transparent, and sustainable way to ensure the necessary fiscal support of LB 890, but also to use it as an avenue to bring about property tax relief through equitable school funding," Kay said in opening remarks.

Watch testimony from both LB890 and 891 on Nebraska Public Media.
Loeffelholz said ESBA and the Allocated Income Tax helps all school districts meet each of the school district's diverse needs and that "equates to over $700,000,000 in property tax relief."
"This levy room allows flexibility and works as a way to address things like addressing teacher salaries and growing student populations," Loeffelholz said. "This works for all school districts and still allows for local control."
When thinking about funding property tax relief, Loeffelholz suggests, the Legislative body should think about diversifying its portfolio, "like all of our personal investment portfolio, we don't put all of our money in one fund for fear of sustainability."
The same conversation could be made in regards to LB1107 and LB891 and any other property tax relief mechanism.
"Maybe there is an answer to lowering property taxes on the front end and a rebate on the back end," the CPS Superintendent said. "I have had conversations with members of my family who farm north of Kearney and the only thing they remember is writing the upfront check for their property taxes and not the refund."
*Screenshots from Nebraska Public Media